Adam Hall (Elleston Trevor)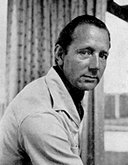 Elleston Trevor was the pseudonym, and eventually legal name, of the British novelist Trevor Dudley-Smith (February 17, 1920–1995), who also wrote as "Adam Hall" and "Simon Rattray," among other names. Trevor worked in many genres, but is principally remembered for his 1964 adventure story The Flight of the Phoenix, written as Trevor, and for a series of Cold War thrillers featuring the British secret agent Quiller, written under the pseudonym "Adam Hall."

Born in England, he also lived in Spain and France before moving to the United States, where he lived in Phoenix, Arizona. He was married and had a son. He was proficient in karate.

The Quiller series focuses on a solitary, highly capable spy (named for Sir Arthur Quiller-Couch) who works (generally alone) for a government bureau that "doesn't exist" and narrates his own adventures. Quiller (not his real name) occupies a literary middle ground between James Bond and the bland-but-crafty spies of John le Carré. He is a skilled driver, pilot, diver, and linguist, but does not carry a gun.

The series features a very stylized including intense depictions of spy tradecraft and professional relationships, surprise jump cuts between chapters, and deep, sometimes self-pitying interior monologues. The first of the Quiller novels, The Berlin Memorandum (1965) was filmed in 1966 under its US title, The Quiller Memorandum and starred George Segal and Alec Guinness. It was also adapted into a 1975 British television series, featuring Michael Jayston.

Trevor also wrote a series of mystery novels under the name "Simon Rattray." They featured Hugo Bishop, a brilliant man who, like Agatha Christie's Hercule Poirot, solved crimes as a kind of mental challenge. The first Bishop novel, Knight Sinister, appeared in 1951; five more followed, with the last appearing in 1957. That Trevor could also be very effective in the straight, non-mystery genre is shown by The Billboard Madonna (1961), a chilling study of the advertising world: the protagonist accidentally kills a beautiful woman in a car crash, and is obsessively compelled to memorialize her. (Wikipedia)



Internal Links

External Links





The Quiller Dossier
"Nobody writes better espionage than Adam Hall."
-- The New York Times
"When it comes to espionage fiction, Adam Hall has no peer."
-- Eric Van Lustbader, author of The Ninja
"Better than Bond. More interesting. More real."
--Minneapolis Tribune
"Tension in a novel is difficult to maintain at a pitch that actually creates a physical impact on the reader. A few of the best writers can do it, and among them is Adam Hall."
--Times Literary Supplement (London)

1. The Quiller Memorandum (1965)
2. The 9th Directive (1966)
3. The Striker Portfolio (1968)
4. The Warsaw Document (1971)
6. The Mandarin Cypher (1975)
7. The Kobra Manifesto (1976)
8. The Sinkiang Executive (1978)
9. The Scorpion Signal (1979)
10. The Peking Target (1981)
11. Quiller (1985)
12. Quiller's Run (1988)
14. Quiller Barracuda (1990)
16. Quiller Solitaire (1992)
18. Quiller Salamander (1994)
19. Quiller Balalaika (1996)