Cipher Room (Messageboard)
Ian Fleming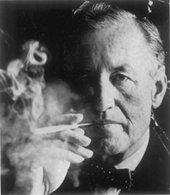 Ian Fleming was born in Mayfair, London, to Valentine Fleming, a Member of British Parliament, and his wife Evelyn St. Croix Fleming (née Rose). Ian was the younger brother of the travel writer Peter Fleming and the older brother of Michael and Richard Fleming. He also is grandson of the late Robert Fleming, founder of the Scottish American Investment Trust

Ian was educated at Eton College and Sandhurst military academy. He won the Victor Ludorum, at Eton, two years running, something that had only been achieved once before him. After an early departure from Sandhurst which he found uncongenial, his mother then sent him to study languages on the continent, first at Kitzbühel, Austria, at a small private establishment run by the Adlerian disciples, Ernan Forbes Dennis and his American wife, the novelist Phyllis Bottome, to improve his German and prepare him for the Foreign Office exams, then to Munich University, Germany, and, finally, to improve his French at the University of Geneva in Switzerland. Subsequently, Fleming was unsuccessful in joining the Foreign Office, and subsequently worked, first, as a sub-editor and journalist for the Reuters news service, including time in 1933 in Moscow, Russia, and later as a stockbroker with Rowe and Pitman, in Bishopsgate.

In 1939, on the eve of World War II, Rear Admiral John Godfrey, Director of Naval Intelligence of the Royal Navy, recruited Fleming (then a reserve subaltern in the Black Watch) as his personal assistant. Initially commissioned as a Royal Naval Volunteer Reserve lieutenant, he subsequently was promoted to Lieutenant commander, then to Commander.

In Naval Intelligence, Fleming conceived, and was author of Operation Ruthless, a plan — left unexecuted — for capturing the German naval version of the Wehrmacht's Enigma communications encoder. He also conceived an attempt to use British occultist Aleister Crowley to trick Rudolph Hess into attempting to contact a faux cell of anti-Churchill Englishmen in Britain, however, this plan wasn't used as Rudolph Hess had flown to Scotland and parachuted in an attempt to broker peace behind Hitler's back. Anthony Masters's book The Man Who Was M: The Life of Charles Henry Maxwell Knight asserts Fleming conceived the plan that successfully lured Hess into flying to Scotland — in May 1941, to negotiate Anglo–German peace with Churchill — and consequent captivity; this claim has no other source. Fleming also formulated Operation Goldeneye, a plan to maintain communication with Gibraltar as well as a plan of defence if Spain had joined the Axis Powers and along with Germany had invaded the land.

In June 1941 General William Donovan requested Fleming write a memorandum describing the structure and functions of a secret service organisation; for that, Fleming was rewarded with a .38 Police Positive Colt revolver pistol inscribed, "For Special Services." Parts of this memorandum later were used in the official charter for the OSS, which was dissolved after World War II in 1945; the OSS's descendant, the Central Intelligence Agency was proposed and created two years later.

In 1942 Fleming formed an Auxiliary Unit known as 30 AU, which he nicknamed as his own "Red Indians"; 30 AU was specifically trained in lock-picking, safe-cracking, forms of unarmed combat, and other techniques and skills for collecting intelligence. As Fleming's responsibility, he meticulously planned all their raids, going so far as to memorize aerial photographs so that their missions could be planned in detail; although very successful, 30 AU eventually was taken from Fleming on D-Day.

As the DNI's personal assistant, Fleming's intelligence the background and experience the James Bond novels; the first was Casino Royale, published in 1953. Its anti-heroine, Vesper Lynd, is believed inspired by real-life SOE agent, Christine Granville; likewise, for the protagonist, inspirations for James Bond, various inspirations have been suggested. Besides writing the twelve novels and nine short stories featuring James Bond, secret agent 007, Ian Fleming also is known for having written the children's novel, Chitty Chitty Bang Bang. The James Bond books became a very successful and part of 1950s popular culture, even before being adapted cinematically, permitting Fleming to comfortably retire to his Jamaica cottage,'Goldeneye', where he wrote all the Bond novels. Why Fleming chose that name for his house is unknown. There may have been several reasons; the first is that the house is in Oracabessa, Spanish for 'golden head'; reportedly, Fleming read Carson McCullers' novel Reflections In A Golden Eye around the time bought the house in Jamaica; or, more notably, Fleming was charged with defending Gibraltar during the Second World War — he dubbed the operation Operation Goldeneye.

In 1961 Fleming sold the film rights to his extant and future James Bond novels and short stories to Harry Saltzman, who eventually co-produced with Albert R. "Cubby" Broccoli a film version of Dr. No (1962). For its cast, Fleming suggested his neighbour, actor Sir Noël Coward to portray Dr. Julius No and David Niven as James Bond. Some sources speculate Roger Moore as another Fleming favourite for the role of Bond, and Fleming's cousin Christopher Lee as Dr. No and even as James Bond. Although Lee was not selected for either role, he later was cast as the eponymous villain, The Man with the Golden Gun, Francisco Scaramanga. The succesful Dr. No was followed by From Russia with Love (1963), the last James Bond movie Ian Fleming would see released.

Ian Fleming was a noted bibliophile, and compiled an important library on the theme of significant books in the history of Western Civilisation, books which, in his opinion, had "started something". Particularly, he collected books relating to science and technology such as On the Origin of Species, including milestones such as Mein Kampf and Scouting for Boys. He was a major lender to the 1963 exhibition Printing and the Mind of Man; currently, six hundred books from his collection are in the Lilly Library at Indiana University, Bloomington, Indiana, U.S.A.

In the morning of August 12, 1964, Ian Fleming died of a heart attack in Canterbury, Kent, at age 56, and was buried in the churchyard cemetery of Sevenhampton village, near Swindon. His widow, Anne Geraldine Mary Fleming (1913–1981), and their only son, Caspar Robert Fleming (1952–1975), later were buried next to him. Ian's heart attack resulted from his lifestyle of daily heavy drinking and heavy smoking (seventy cigarettes and a bottle of gin, in addition to the stressful Thunderball lawsuits in the early 1960s, wherein film producer Kevin McClory sued Fleming for adapting a screenplay notably co-written by most McClory, and Jack Whittingham



External Links









Casino Royale (1953)
Live and Let Die (1954)
Moonraker (1955)
Diamonds are Forever (1956)
From Russia with Love (1957)
Dr. No (1958)
Goldfinger (1959)
For Your Eyes Only (1960)
Thunderball (1961)
The Spy Who Loved Me (1962)
On Her Majesty's Secret Service (1963)
You Only Live Twice (1964)
The Man with the Golden Gun (1965)
Octopussy (1966)