Robert Ludlum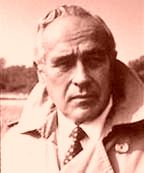 Robert Ludlum (May 25, 1927 New York City – March 12, 2001 Naples, Florida) was an American author of 29 thriller novels. There are more than 210 million of his books in print, and they have been translated into 32 languages. He died in 2001, reportedly leaving behind several unpublished manuscripts and rough outlines, which continue to be dusted off and published with the help of ghostwriters.

Ludlum was once a theatrical actor and producer. His theatrical experience may have contributed to his understanding of the energy, escapism and action that the public wanted to see in a novel. He once remarked: "I equate suspense and good theatre in a very similar way. I think it's all suspense and what-happens-next. From that point of view, yes, I guess, I am theatrical."

His stories typically feature one man or a small group of individuals up against powerful adversaries capable of using political and economic machinery in frightening ways. Ludlum's vision of the world is one where global corporations, shadowy military forces and government organizations conspire to undermine the status quo. With the exception of occasional gaps in his knowledge of firearms, his novels are meticulously researched, replete with technical, physical and biological details, including research on amnesia for The Bourne Identity.

Despite his success, Ludlum has never received the acclaim found by other writers of the genre, such as John Le Carré. Critics dislike his use of italics, short sentences, exclamation marks, dashes and other techniques, and found fault with his abundant melodrama, simplistic characters and limited psychological development.

However, it was Ludlum who first wrote the thriller in the modern style that we know today, setting the stage for writers such as David Morrell, Gayle Lynds and Daniel Silva. He popularized the notion of American and Soviet intelligence operatives working together, and the CIA conducting illegal operations on American soil. Both premises, once derided as being fictional, are now accepted as fact.

Some of Ludlum's novels have been made into films and mini-series, including The Osterman Weekend, The Holcroft Covenant, Apocalypse Watch, The Bourne Identity, and The Bourne Supremacy. The Bourne series, starring Matt Damon, has been very successful commercially and critically, although the story lines depart significantly from the source material. (Wikipedia)



External Links




The Scarlatti Inheritance (1971)
The Osterman Weekend (1972)
The Matlock Paper (1973)
The Rhinemann Exchange (1974)
The Road to Gandolfo (1975)
The Gemini Contenders (1976)
The Chancellor Manuscript (1977)
The Holcroft Covenant (1978)
The Matarese Circle (1979)
The Bourne Identity (1980)
The Aquitaine Progression (1984)
The Bourne Supremacy (1986)
The Icarus Agenda (1988)
The Bourne Ultimatum (1990)
The Scorpio Illusion (1993)
The Apocalypse Watch (1995)
The Matarese Countdown (1997)
The Prometheus Deception (2000)
The Sigma Protocol (2001)
The Jansen Directive (2002)
The Tristan Betrayal (2003)
The Ambler Warning (2005)
The Bancroft Strategy (2006)